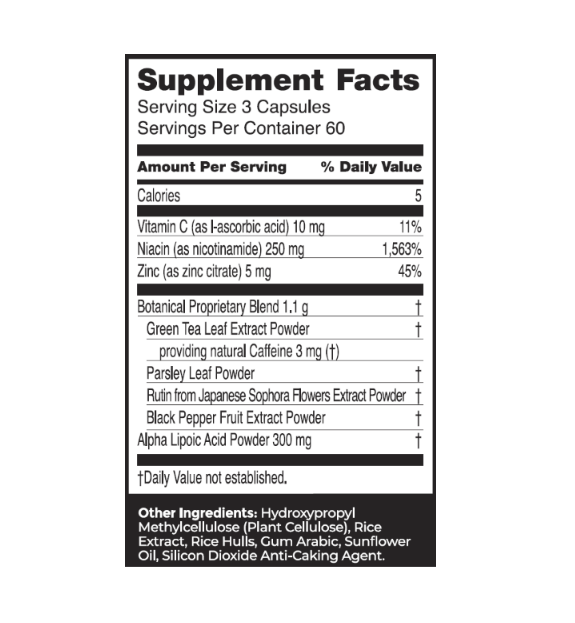 Nuchido TIME+
A new generation of anti-aging supplement.
Product Information
Each bottle contains 180 Capsules (30-day supply)
Take 3 capsules with water twice daily, at least 6 hours apart.
Store in a cool dry place, below 25ºC/77 ºF, out of reach of children.
Warning: Always consult your healthcare practitioner before taking dietary supplements, especially if you are taking medication or are under medical supervision. This product contains 3mg of caffeine per serving. This product is not recommended for children, pregnant or lactating women. This product is not a substitute for a balanced diet.  
To report a serious adverse event, please contact 1-314-260-7874
Performance
Nuchido TIME+ is a breakthrough dietary supplement designed to efficiently boost cellular NAD+ levels.

International Patents pending Nos. WO2020012175A1 / WO2020016543A2 / W02019175587A1
Benefits
Nuchido TIME+™ is a food supplement containing a scientific blend of vitamins, botanicals, and other supportive ingredients.
-  Vitamin C & zinc contribute to the normal function of the immune system. 
 - Vitamin C & zinc are antioxidants which contribute to the protection of cells from oxidative stress.
 - Vitamin C & niacin contribute to normal energy-yielding metabolism & the reduction of tiredness and fatigue and normal psychological function.
 - Zinc contributes to normal DNA and protein synthesis.
 - Niacin contributes to the maintenance of normal skin.
 - Zinc contributes to the maintenance of normal bones, hair, nails & skin, vision.
 - Green Tea may help to maintain energy levels, support a healthy mind and cognitive function, normal immune function and to help protect cells from oxidative stress.
Suitability
- Suitable for vegetarians & vegans
- Free from gluten, egg, milk, fish, soybeans, celery, mustard, sesame seeds, crustacean, BSE/TSE
- Non GM
- Non irradiated
- There are no nuts in this recipe however we cannot guarantee that the raw materials entering the site are nut free.
Quality
Nuchido TIME+™ is manufactured to rigorous GMP standards in the UK, with imported ingredients, in an FDA registered facility to allow import to the US.

What is GMP?
GMP stands for Good Manufacturing Practices. That means the product is manufactured with stringent safety and quality controls.

Who are the FDA?
The Food and Drug Administration is a federal agency of the United States Department of Health and Human Services, one of the United States federal executive departments.

Manufacturing to these standards ensures you receive safe and great quality products.